Covers don't matter, until they do. We just released three books with three completely different covers and three different stories. Each had different challenges, and each had a new lesson.
The easy one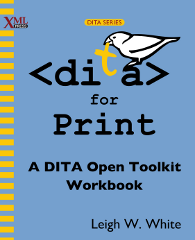 The first was easy. We continued a series of books about DITA with a book about using the DITA Open Toolkit to create PDFs. The hardest part of this cover was getting the color right. Print colors are different from display colors. In particular, the range of colors you can get on a screen can't be duplicated in print. The reasons are beyond the scope of this article, but of most interest for this book is that many shades of blue will, when converted from screen (RGB) to print (CMYK), look closer to purple than pure blue. And, in fact, the original shade of blue we chose turns slightly purple when converted from RGB to CMYK. Fortunately, the change was subtle, and the author liked the print shade, so we dodged that bullet.
The lesson here was that color is not as simple as it seems. I had always thought that color variations and careful control of color were for people who can tell the difference between tan and sandy or eggshell white and off white, but certainly not to a technical book publisher. But it turns out that certain colors will dramatically change when you convert them from screen to print specifications, and you need to test for those changes before committing to a particular color (or hire a professional who can help guide you through the potential problems).
{ 0 comments }